Oven baked whole trout with lemon, ginger and white wine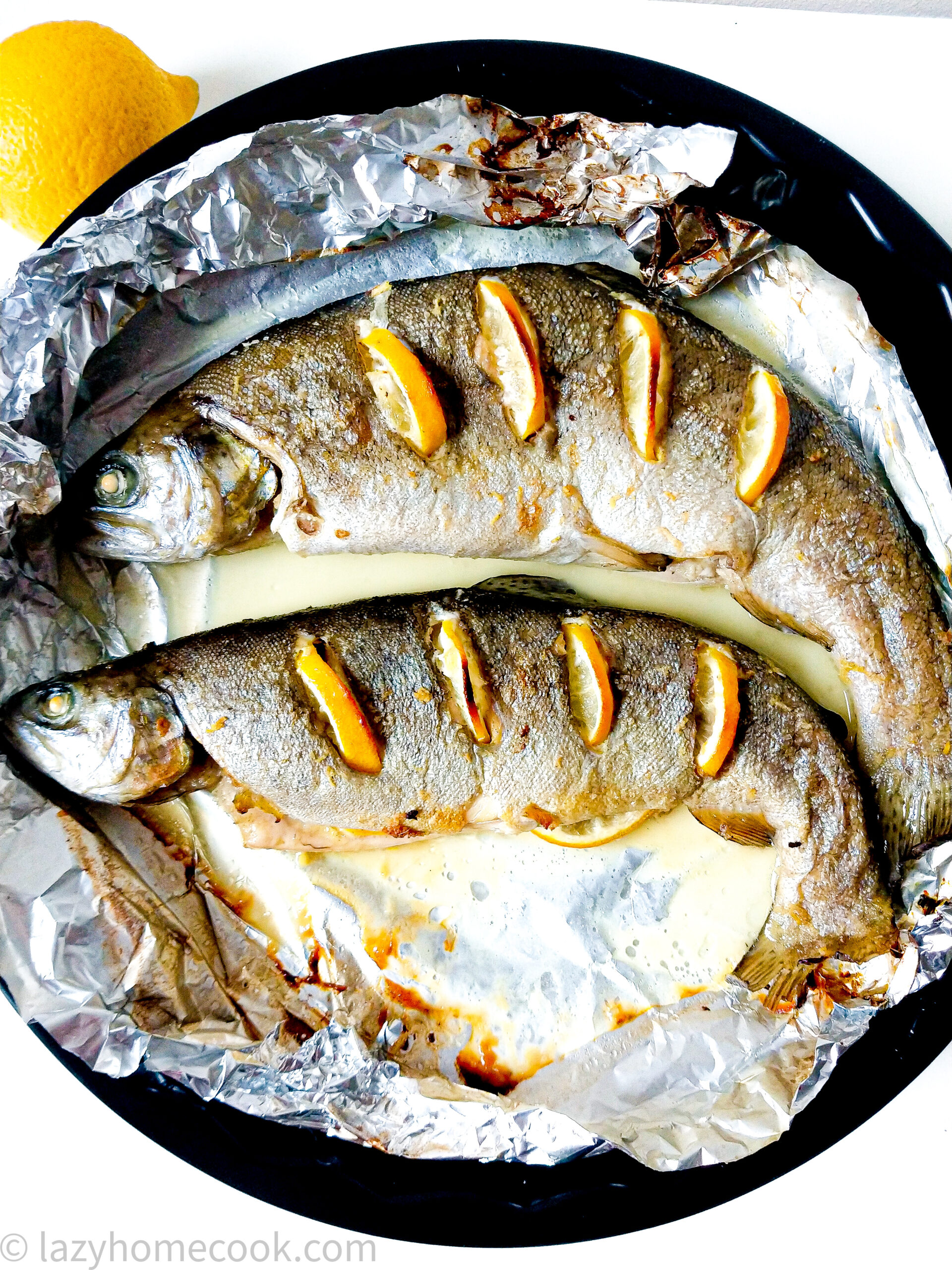 Flaky, tender and easy oven-baked rainbow trout. Seasoned with delicious ingredients like lemon and ginger, and baked in white wine. The fish looks amazing served in the whole, and will absolutely WOW everyone you serve it too!

I bought trout that was already gutted, because it's just an easy route to take. It saves you some preparation time, and within 40 minutes you'll have a delicious oven-baked trout on the table! Just make sure that fish you buy is really fresh. So double-check the validity date in the supermarket or simply buy your fish on the fish market that you trust.

You can serve baked rainbow trout with fresh salad, like Russian Olivier salad, and glass of white wine – it will be an amazing lunch to enjoy on a sunny day. The trout could also be served for dinner with, for example, celeriac and potato mash or (baked) potatoes. Anyways, it really doesn't matter what you serve it with, the fish tastes great anyhow in all seasons of the year. I'm sure you'll love it!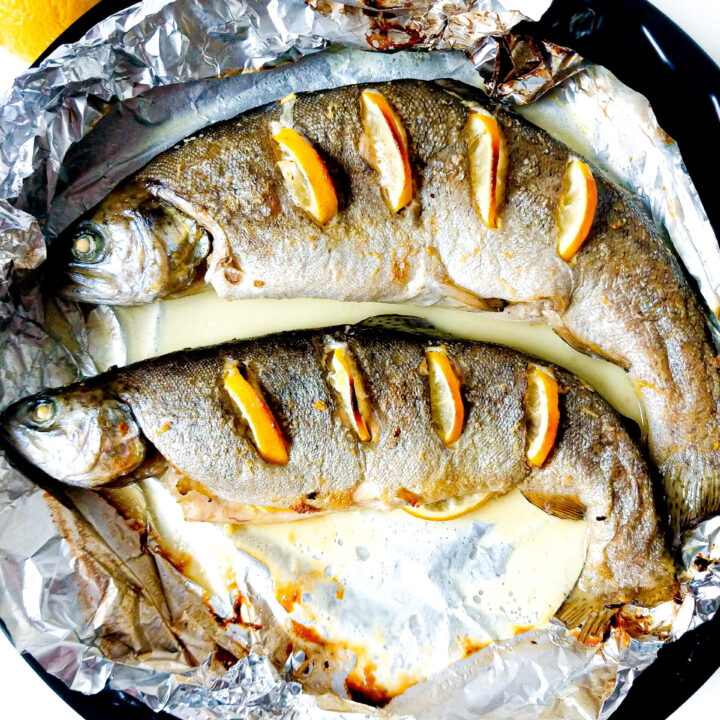 Oven baked whole trout with lemon, ginger and white wine
Ingredients
2 whole trouts ( about 480 gr in total)
1 fresh lemon
1 garlic clove, minced
4 bay leaf
1 tsp fresh ginger, minced
5 tbsp olive oil
60 ml white wine
Salt/pepper
Instructions
Heat oven to 220 degrees Celsius, and line a baking pan with a large sheet of aluminium foil.
Mix together - oil, garlic, ginger and set aside.
Rinse the outside and inside of the trout under cold water and pat dry with paper towels. Make 4 crosswise slashes down to the bone on each side of the fish.
Now, slice the lemon into 8 thin rounds, and cut these rounds into half. Squeeze the remaining lemon over the inside of the fish.
Rub the outside (including the slashes) and inside of both fish with the oil mixture, finishing the whole oil mixture, and season with salt and pepper.
Stuff the cavity of each fish with 2 bay leaves and 4 lemon parts.
Then stuff each slash (on only one side of the fish) with 1 lemon part.
Place both trout, lemon side up, on the baking pan with aluminium foil.
Pour in the wine and carefully seal the edges of the foil to form an enclosed packet.
Bake in the center of the oven for 20 minutes. Then, carefully (hot) remove the upper layer of foil and bake for another 10 - 15 minutes, until fish flesh is opaque and flakes with a fork.
Present both fish on a plate. Got some liquids of the white wine left in the aluminum foil? Drizzle it on the fish.
Enjoy!
Did you make this recipe? I'd love to see pictures of your creations on Instagram!
Tag @lazyhomecookk and hashtag it #lazyhomecook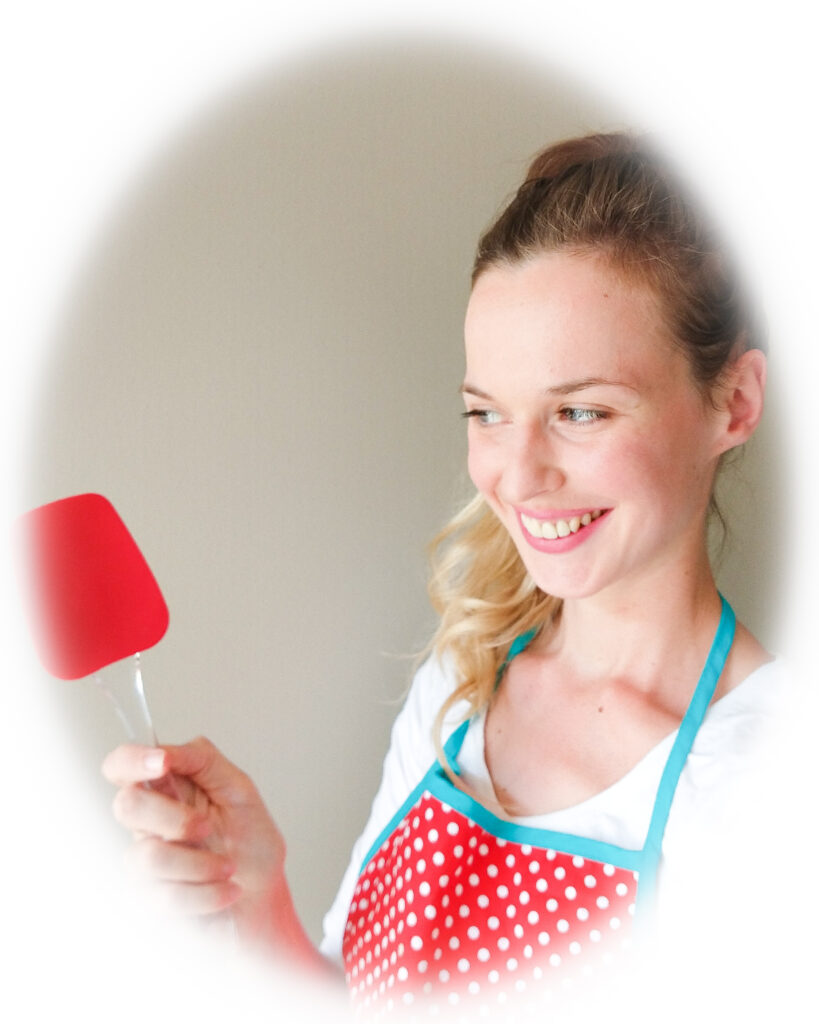 Hi, and welcome!
I'm Jeanette, the blogger behind Lazy Home Cook.
Here I share all my delicious, easy
and family approved recipes with YOU.
Thank you for stopping by!
I'm happy you're here.

---
---