Baghrir Moroccan semolina pancakes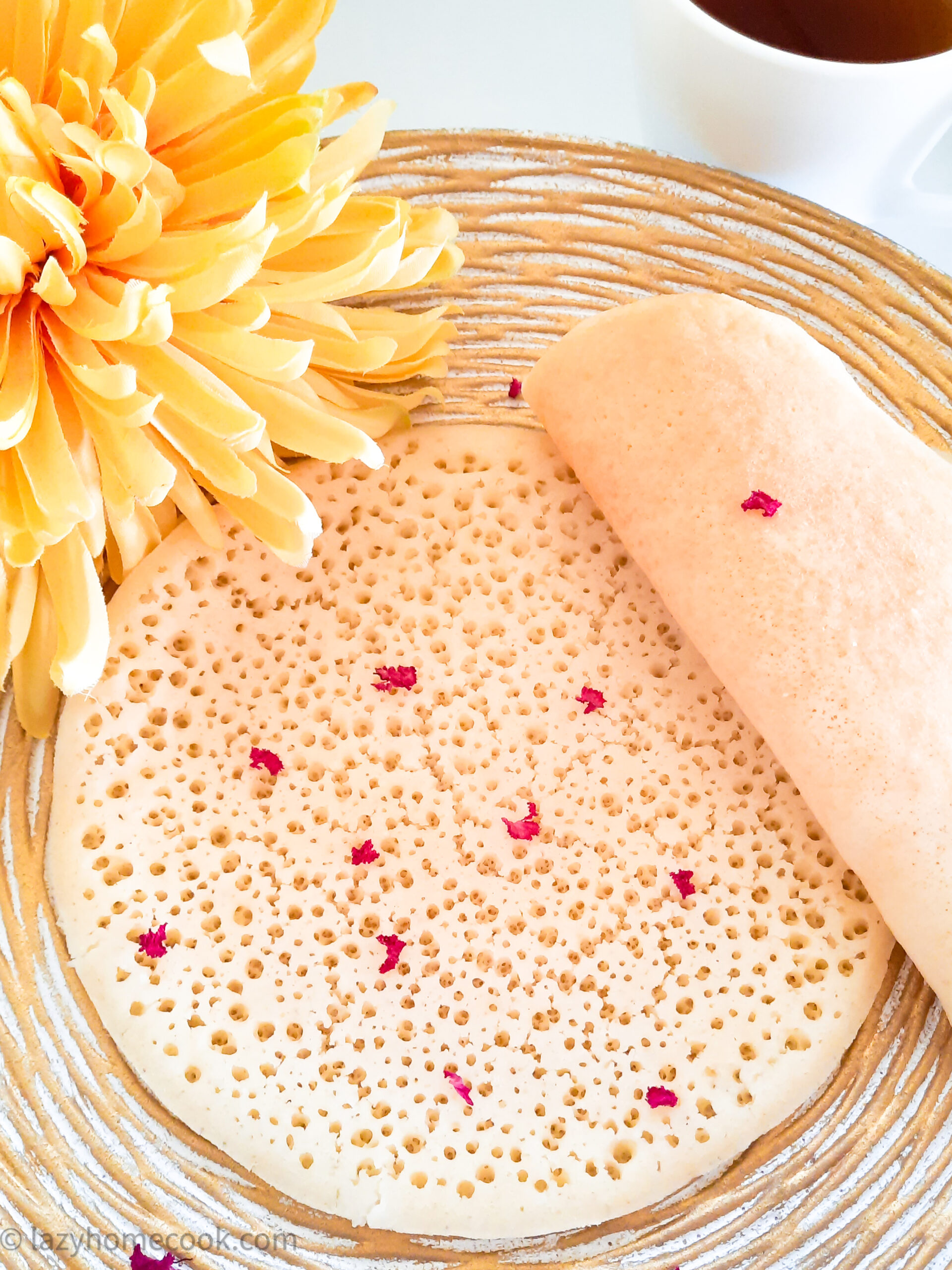 Baghrir are tender, spongy and warm Moroccan pancakes made from semolina. It's a tasty classic Moroccan dish that contains no eggs or dairy, which makes these semolina pancakes a great option for people with egg and/or dairy intolerance.

Baghrir pancakes are easy to make and are cooked on just one side. Just follow my quick foolproof semolina pancake recipe step-by-step and you've made yourself the best Moroccan baghrir pancakes out there!

It's the yeast in the baghrir batter that causes many holes to form on the surface of the pancakes as they cook, and that's why people often refer to baghrir as "thousand holes pancakes". Baghrir is also known as hatita, beghrir or gringo.

I'm just crazy about pancakes! Dutch pancakes, Irish pancakes, spinach pancakes or Moroccan pancakes, I seriously can finish the whole stack by myself.

Try these thousand holes pancakes with warm honey and butter (that's the traditional way), or with any other topping of your liking (sweet/savory).

Enjoy!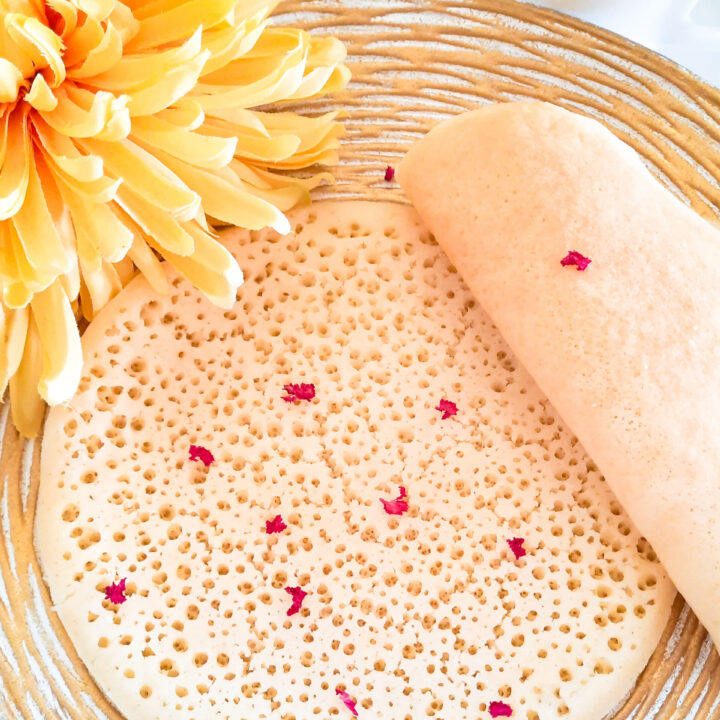 Baghrir Moroccan semolina pancakes
Additional Time:
15 minutes
Baghrir are tender, spongy and warm Moroccan pancakes made from semolina. Yield: 14 pancakes
Ingredients
350 gr (2 cups) fine semolina
75 gr (¼ cup + 3 tbsp) all-purpose flour
10 gr (1 tbsp) granulated sugar
9 gr (2.5 tsp) instant yeast
5 gr ( 1 tsp) salt
15 gr ( 1 & ¾ tbsp) baking powder
700 ml (2.9 cup) lukewarm water
Instructions
Add all dry ingredients to a medium-size bowl and mix.
Add 700 ml lukewarm water to the dry ingredients and mix with a hand blender until smooth, for about 1 minute.
Cover the bowl with a dish towel and allow to rise in a warm place for 15 minutes.
Fill ¾ of a ladle with baghrir batter and pour carefully into the center of a small 15 cm (6 inch) diameter non-stick skillet. No need to grease the skillet first.
The batter should spread to the edges of the skillet, but you can gently swirl it around too.
Then heat the skillet over medium heat. Bubbles will start appearing on the surface of the baghrir as it cooks.
Cook the baghrir on only one side for about 1 to 2 minutes or until the baghrir doesn't appear to look wet anywhere on the surface*.
Transfer the pancake to a plate and cover with aluminium foil to keep warm. **
Serve the pancakes with butter and honey, hot syrup or simply with any topping of your liking!
Notes
*It should feel spongy, but not sticky or gummy when you touch it gently.
**Run cold water over the bottom of the skillet before you start baking another pancake. Using a cold skillet, filling it with batter and then baking again will make the pancakes appear more fluffy, but you can skip this step if you wish.
Did you make this recipe? I'd love to see pictures of your creations on Instagram!
Tag @lazyhomecookk and hashtag it #lazyhomecook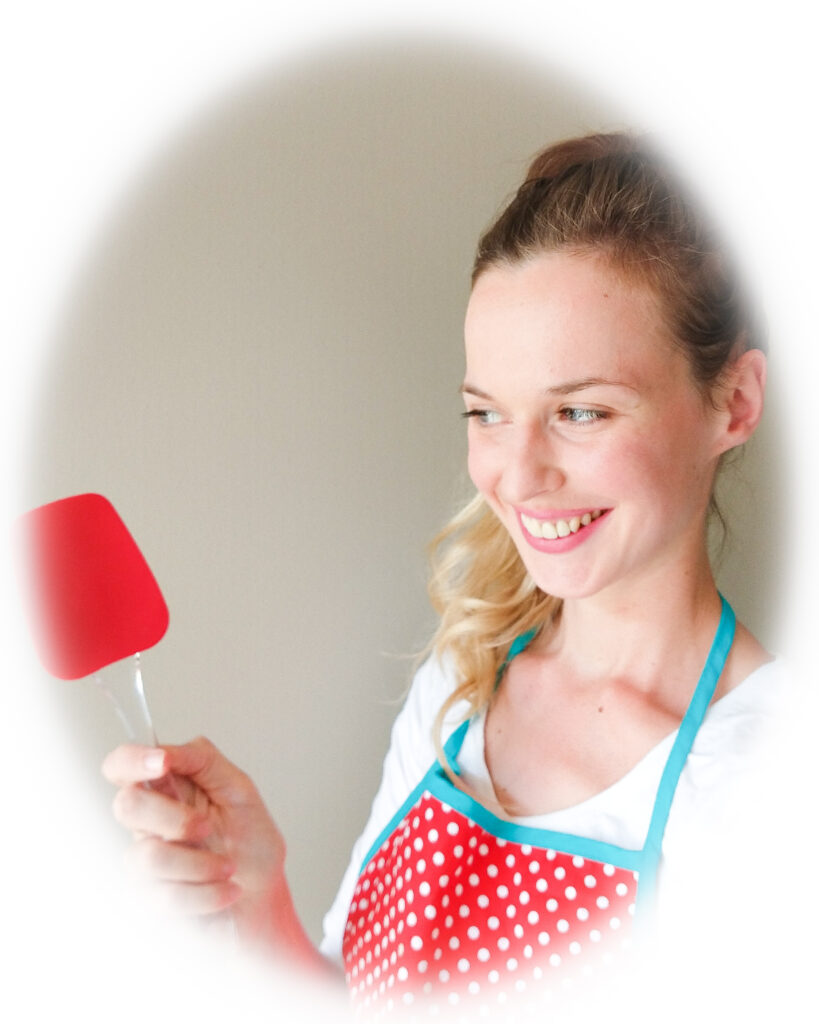 Hi, and welcome!
I'm Jeanette, the blogger behind Lazy Home Cook.
Here I share all my delicious, easy
and family approved recipes with YOU.
Thank you for stopping by!
I'm happy you're here.

---
---