Turkish Pide With Spinach And Minced Beef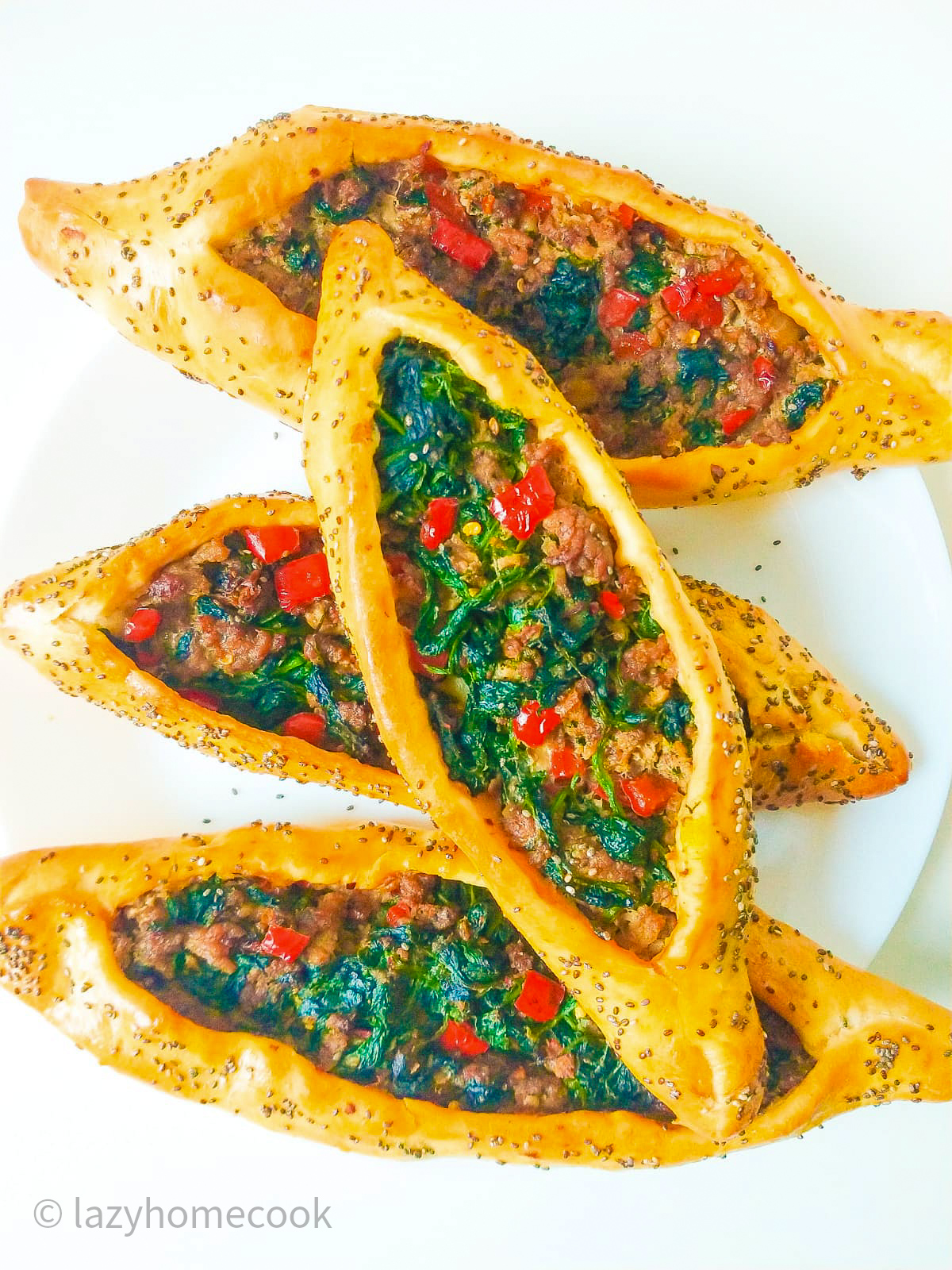 Turkish meat pie with beef and spinach. Pide are just like sigara boregi (spring rolls), a popular Turkish dish. I guess it's the simple combination of homemade dough with beef and vegetables that transforms this pide into a dish that wows a crowd! Believe me, the perfectly cooked dough and the richness of the filling, will make you want to cook this dish over and over again.

I have always been scared of working with dough, because I failed many times trying to make it. But since recently I have suddenly succeeded with whatever kind of dough I was trying to make (including this pide).

Although the pide looks impressive and complicated, it's really simple! You can easily learn to cook pide in the comfort of your own home.

Well, give it a try. I'm sure you'll  WOW everyone with this dish!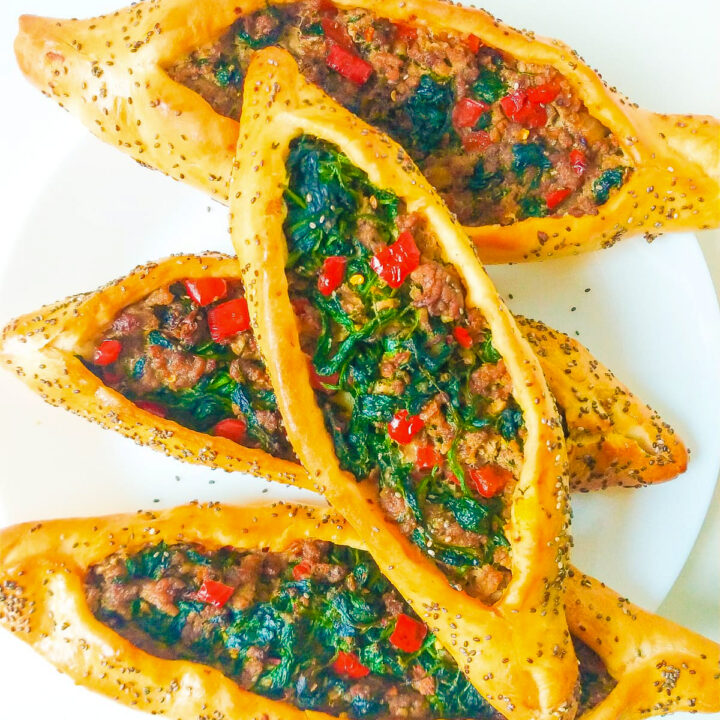 Turkish Pide With Spinach and Minced Beef
Additional Time:
45 minutes
Total Time:
1 hour
30 minutes
Turkish meat pie (Pide) with beef and spinach made from scratch. Homemade food never tasted so good! It's the simple combination of dough with beef and vegetables that transforms this pide into a dish that wows a crowd! Yield: 4 pies
Ingredients
Filling:
2 garlic cloves, finely chopped
200 gr minced beef
300 gr spinach
0,5 red capsicum/ bell pepper, diced
1 onion, finely chopped
¾ tsp smoked capsicum powder
0,5 tsp cumin powder
0,5 tsp chili powder
1 egg
15 gr fresh mint leaves, chopped
100 gr Feta cheese (optional)
salt/pepper to taste
Dough:
250 gr all-purpose flour
150 ml lukewarm water
30 ml oil
7 gr instant yeast
¼ tsp salt
1,5 tsp granulated sugar
Instructions
Preheat oven to 210 degrees Celsius.
To a bowl sieve flour and add yeast, salt and sugar. Mix.
Add lukewarm water to the flour mixture and stir until combined.
Add the oil to the flour mixture and knead for about 5 minutes until you reach a smooth dough.
Place the ball of dough into a large bowl, cover with a damp kitchen towel and set aside (preferably a warm spot) for 45-60 minutes to rise.
Sauté the onion, garlic and capsicum over medium/high heat until they start to soften. Set aside.
Now, heat a skillet over medium/high heat (without oil) and add the spinach. Cook until just wilted, and drain. When cool enough to handle, squeeze excess liquid from spinach and shred finely.
Place the minced beef in a bowl and add the mint, garlic, onion, bell pepper, spinach, capsicum powder, cumin powder, chili powder and mix. Season with salt and pepper, and set aside.
Once the dough is risen, divide into four pieces and roll into balls.
On a lightly floured surface (or parchment paper), roll the dough balls into four oval shapes of 27 cm x 13 cm.
Line a large baking tray with baking paper and place four (or less, depending on the size of the tray) oval flat bread dough pieces on the tray.
Spread the filling evenly over the four flat breads, and crumble the Feta on top (optional). Make sure to leave 2 cm at the edges as a border with no filling. Fold in the sides to act as barriers to keep the filling intact. Squeeze the oval dough at each end to make it pointy.
Beat an egg in a small bowl and brush the edges of dough with this mixture.
Sprinkle the edges with some chia seeds, and bake for 15 minutes or until the pides are golden brown and crispy at the edges and the meat is cooked through.
Enjoy!
Did you make this recipe? I'd love to see pictures of your creations on Instagram!
Tag @lazyhomecookk and hashtag it #lazyhomecook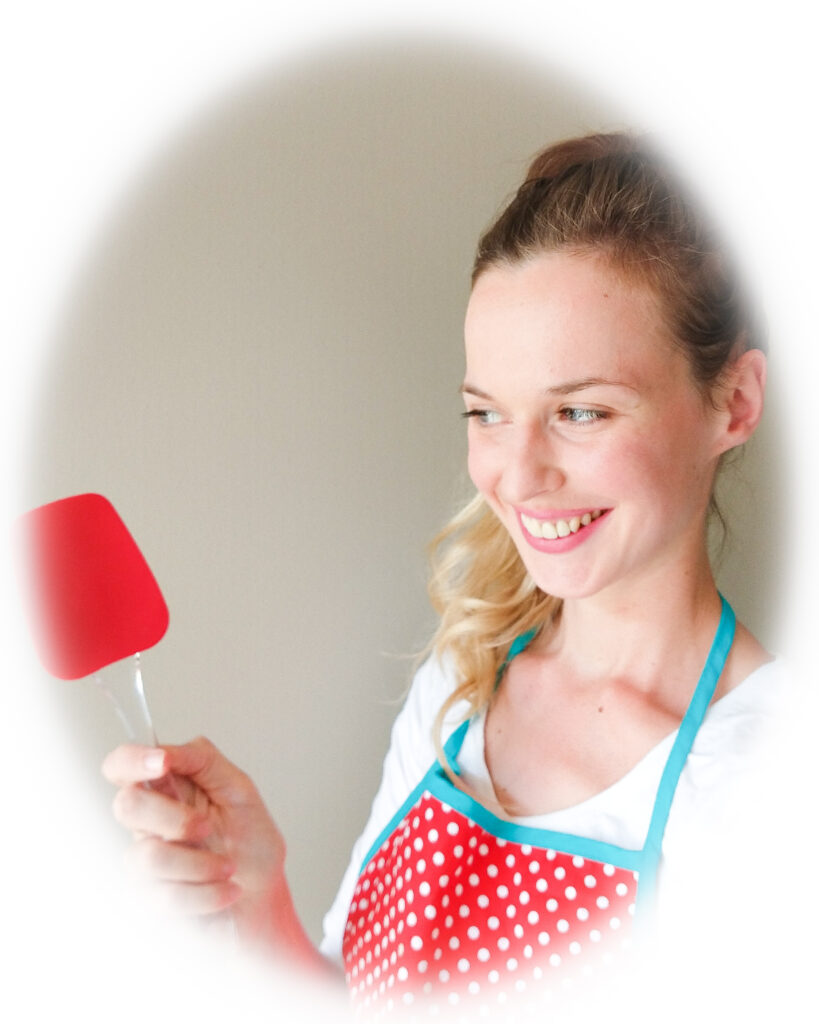 Hi, and welcome!
I'm Jeanette, the blogger behind Lazy Home Cook.
Here I share all my delicious, easy
and family approved recipes with YOU.
Thank you for stopping by!
I'm happy you're here.

---
---