Red lentil burgers recipe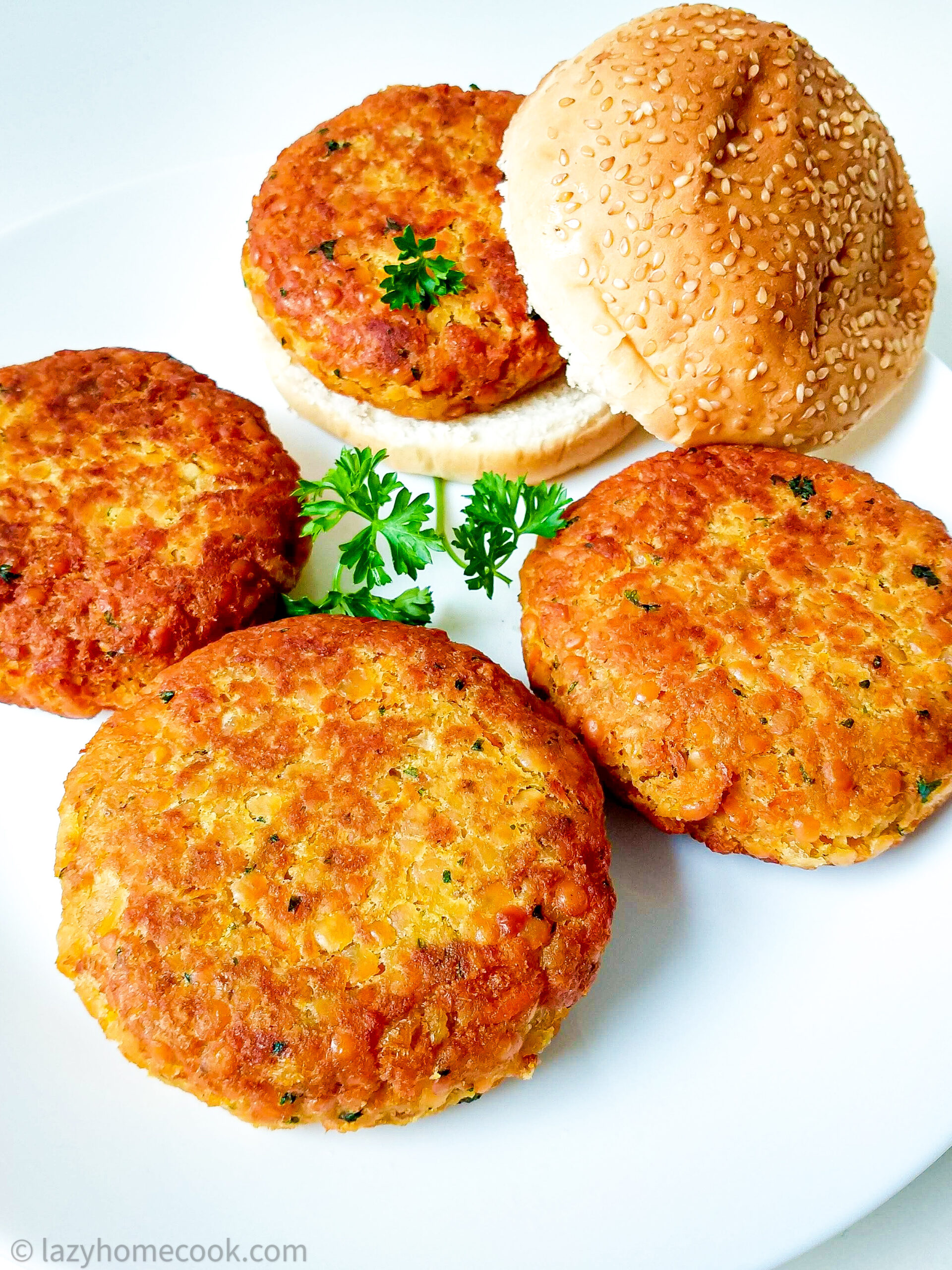 Easy red lentil burgers that are deliciously seasoned and divine! You can pair them with salad or put them between burger buns…there are many ways to enjoy these tasty and vegetarian lentil cakes.

I seriously LOVE lentils! Lentils are one of those ingredients that I always have in my pantry and rely on almost every week. They can be stored for a long period of time and are extremely versatile.

I like to try out different recipes using lentils as the main ingredient. So recently I decided to make those pan-fried lentil burgers, and they turned out so tasty! I put them between burger buns and served them with a fresh garlic/yogurt sauce…yumm.

By the way, did you know that lentils are highly nutritious and represent a perfect protein alternative to meat? They contain around 25% protein and are a great source of iron too. Iron is a mineral that vegetarian diets sometimes lack, so if you are searching for a great substitute for meat, this could definitely be one of your go-to recipes!

Anyhow, I guess I gave you enough reasons to try out these delicious and vegetarian red lentil burgers. Enjoy!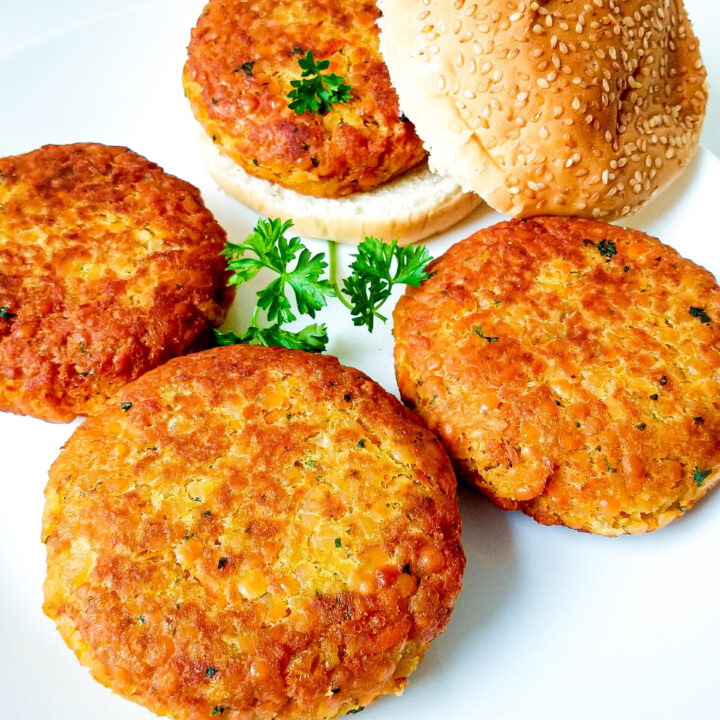 Red lentil burgers recipe
Ingredients
1 small onion, finely chopped
1 garlic clove, minced
1 tsp cumin powder
0,5 tsp coriander powder
500 ml vegetable broth
125 ml water
250 gr dried red lentils
1 carrot (about 170 gr), grated
1 tsp salt
10 gr fresh cilantro or parsley, chopped
125 gr panko
1 egg, beaten
For lentil burgers served on burger buns:
Vegetables of choice
Any sauce of liking
8 burger buns
Instructions
Saute onion and garlic until golden and tender.
Add cumin powder and coriander powder, cook for about 10 seconds.
Add the vegetable broth, water, lentils, carrot and salt. Bring to a boil, then reduce heat to medium/low and allow to simmer until lentils are tender and all the liquid is absorbed, about 10 minutes*. Stir occasionally.
Remove lentil mixture from heat, add fresh herbs and mix till combined. Let the mixture cool down for about 10 min.
Then, add panko, beaten egg and stir until combined.
Divide the lentil mixture to form 8 patties (each patty is about 3,5 full tablespoons).**
Heat oil in a large skillet over medium/high heat, and cook the patties on each side till golden/brown.
Optional: Serve them in between burger buns with fresh vegetables and garlic/yogurt sauce or any sauce of liking.
Notes
*Cooking time of the lentils depend on the lentils you use.
**You can make smaller patties if preferred.
Did you make this recipe? I'd love to see pictures of your creations on Instagram!
Tag @lazyhomecookk and hashtag it #lazyhomecook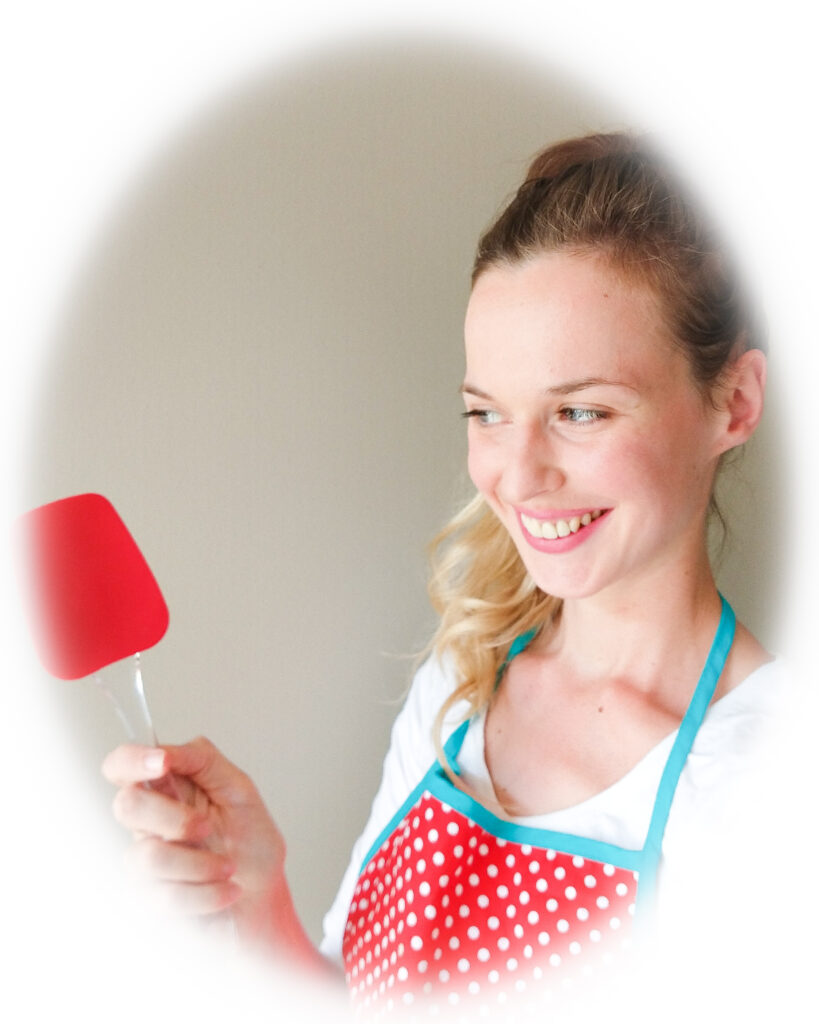 Hi, and welcome!
I'm Jeanette, the blogger behind Lazy Home Cook.
Here I share all my delicious, easy
and family approved recipes with YOU.
Thank you for stopping by!
I'm happy you're here.

---
---