Green beans in Indonesian coconut sauce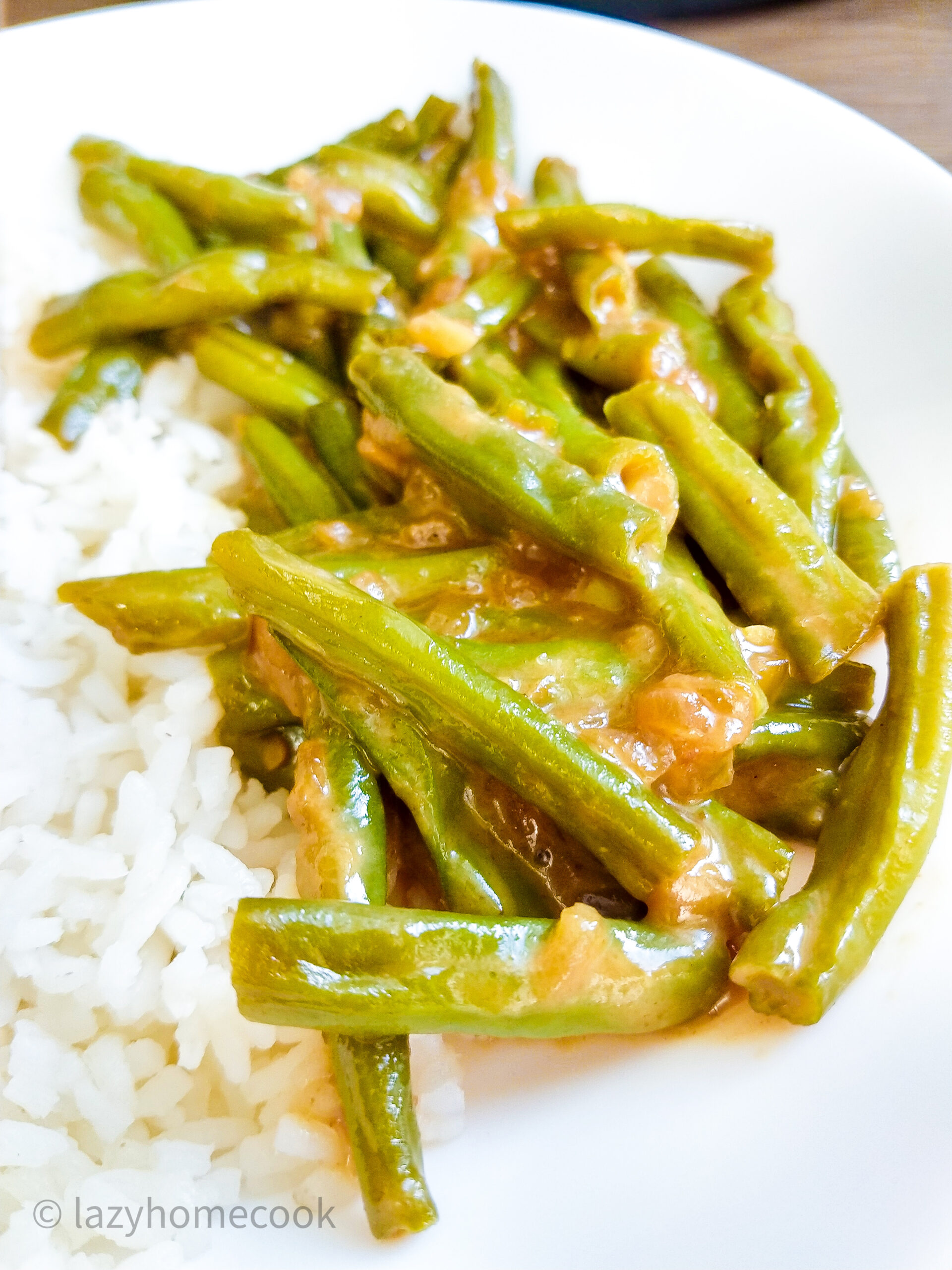 Green beans simmered in a creamy Indonesian coconut sauce and packed with flavor. It is a delicious and easy green bean recipe for you to try. Green beans are often served with nasi goreng as part of a multi-course meal, but you can also decide to eat them with a bowl of plain rice…really tasty too!

In the Indonesian kitchen they often use terasi/belacan/shrimp paste. You can find terasi in almost every oriental supermarket and it has a pretty strong taste and smell.

I also use terasi in this recipe, because it really brings the dish to a whole other level. So try not to omit the terasi, but rather consider paying a visit to the oriental supermarket if you don't have terasi at home yet.

Bring Indonesia to your kitchen and try out this recipe! I'm positive that this can become one of your favorite green bean recipes.

Loving this recipe? You'll probably like these dishes too:
Chicken and long beans (Surinamese style)
Extra crispy cauliflower bites
Lentil curry with spinach and pumpkin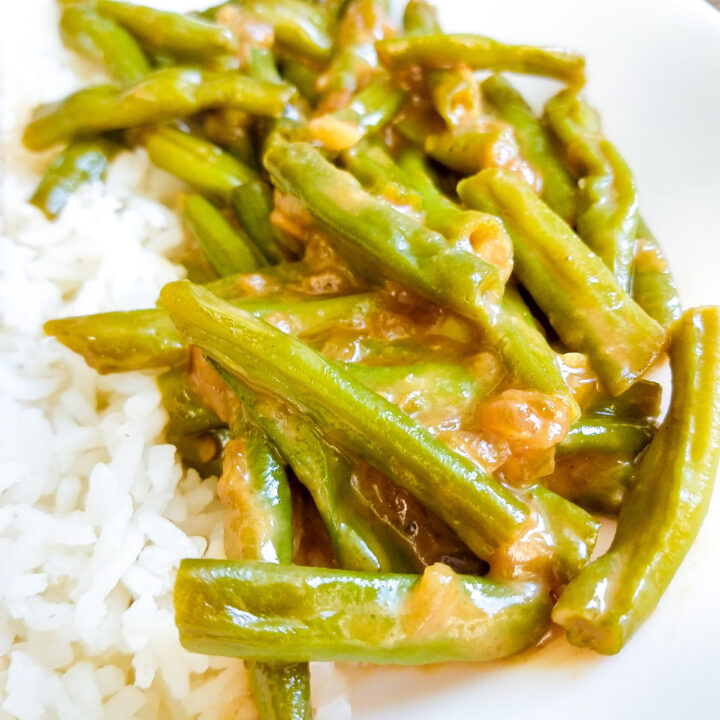 Green beans in Indonesian coconut sauce
Easy and delicious green beans in an Indonesian coconut sauce.
Ingredients
500 gr green beans
1 big onion
3 garlic cloves
1 cm fresh ginger (or 3/4 tsp ginger powder)
3 tsp gula jawa (Indonesian palm sugar)
3/4 tsp terasi/belacan/shrimp paste
2 Maggi seasoning cubes
250 ml coconut milk
Salt/pepper to taste
Instructions
Finely chop the onion, garlic and ginger.
Wash the green beans, cut off the hard ends and cut through half.
Heat oil in a large pan over medium-high heat. Fry garlic and onion until it turns golden/brown. Add a bit more oil if needed.
Add the terasi and ginger to the pan and fry while stirring for about 15 seconds.
Add the gula jawa, Maggi cubes, coconut milk and green beans, mix until combined.
Bring to boil and then immediately reduce the heat.
Cover the pan and simmer until the beans are soft, about 10 minutes.
Season with salt and pepper.

Did you make this recipe? I'd love to see pictures of your creations on Instagram!
Tag @lazyhomecookk and hashtag it #lazyhomecook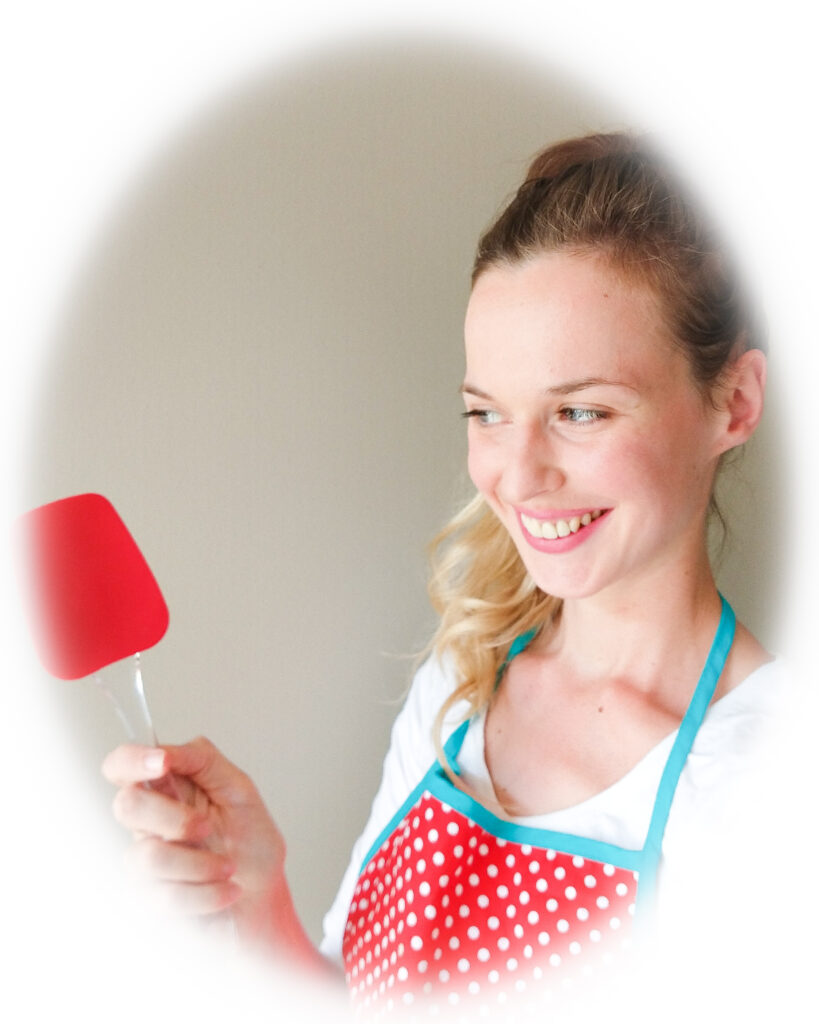 Hi, and welcome!
I'm Jeanette, the blogger behind Lazy Home Cook.
Here I share all my delicious, easy
and family approved recipes with YOU.
Thank you for stopping by!
I'm happy you're here.

---
---