Candied Brussels sprouts with apple butter, bacon and fresh apple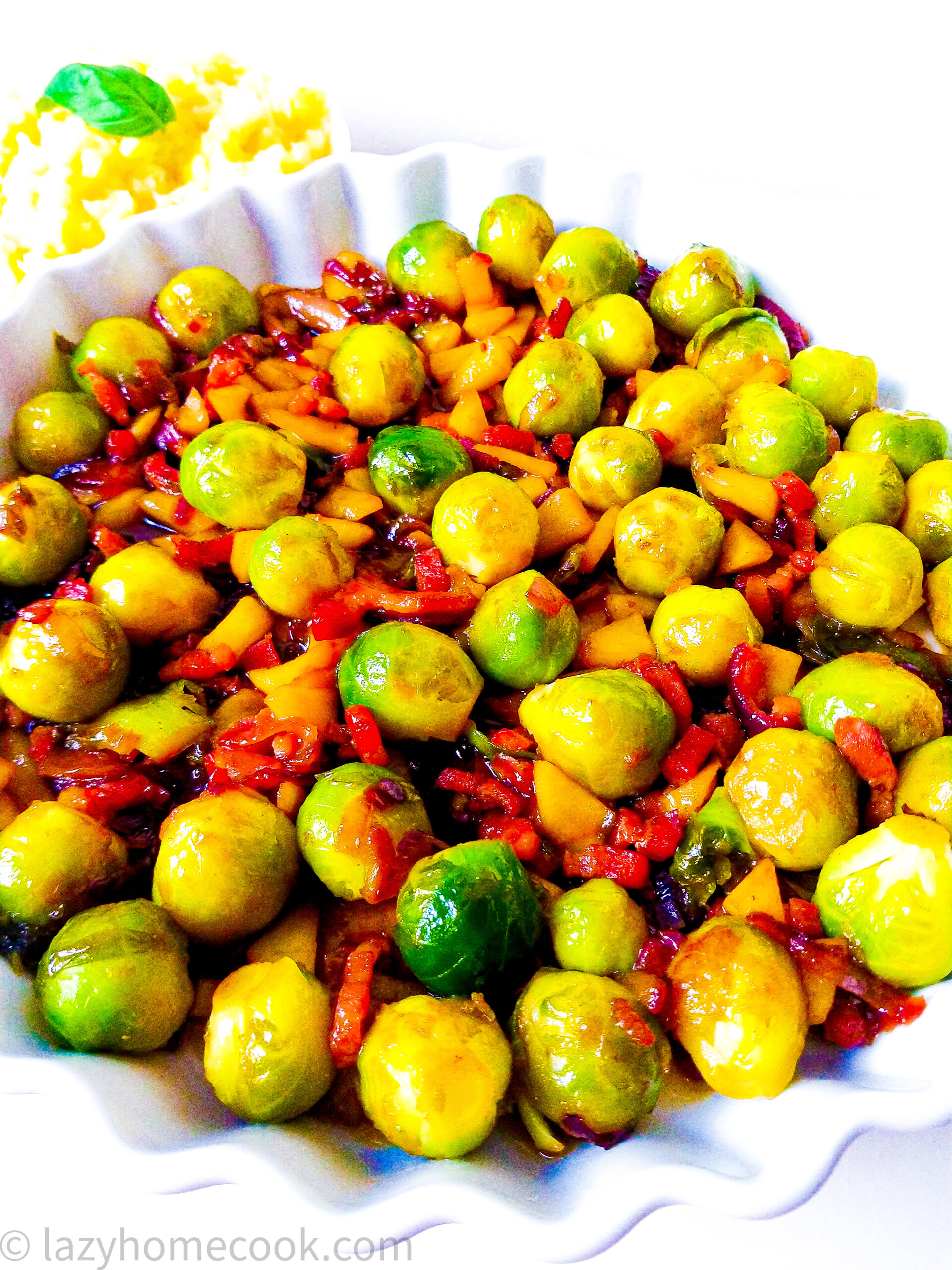 If you were never a big Brussels sprouts fan, you will be from now on. I know that many either love Brussels sprouts or hate them, but believe me, nobody will walk away from this dish, which is a hit even with kids!
This recipe contains only 5 ingredients, is super easy to make and comes out so indulgent. The dish will please everybody thanks to the touch of apple butter, crispy bacon and fresh apple pieces, which make a mind-blowing combination together.
Brussels sprout were originally cultivated in Belgium about five centuries ago and today, in my candied Brussels sprouts recipe, they taste almost like candy. I can easily eat the entire batch myself!
In the past, when I traveled to Belgium, which is just a couple of hours drive from my house in The Netherlands, I always thought about tasty chocolate I was going to buy in Brussels…Now everything has changed – I right away think of my favorite Brussels sprouts recipe.
I'm hardly exaggerating saying that this is one of my all-time favorite side dishes. I often serve my candied Brussels sprouts with celeriac and potato mash. It's an absolute match!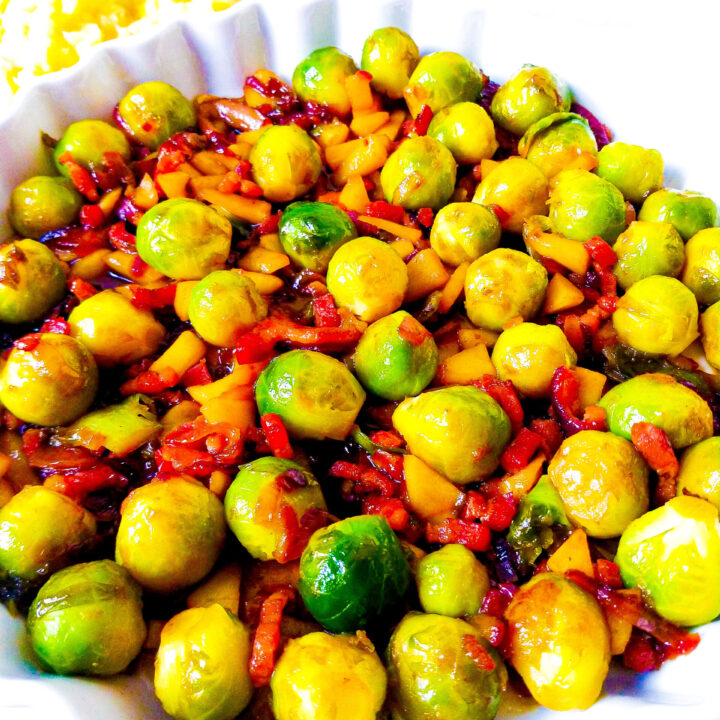 Candied brussel sprouts with apple butter, bacon and fresh apple
The touch of apple butter, crispy bacon and juicy apple pieces turn these Brussels sprouts into a side dish that will please everybody.
Ingredients
500 gr Brussels sprouts, ends trimmed
100 gr bacon, chopped
1 red onion, finely chopped
1 apple, finely diced
2 tbsp apple butter
Salt/pepper
Instructions
Add Brussels sprouts to a pan with water, bring to boil and cook until al dente. Remove Brussels sprouts from the pan and drain.
Add oil into a big skillet and cook the onion and bacon over medium-high heat until the onion is softened and the bacon starts to turn crisp and brown, about 5 min.
Then, add the apple butter to the skillet, and stir until most of the liquid of the butter has perforated, about 2 min. Add apple pieces, and cook for about 1 minute while stirring.
Then add the Brussels sprouts and cook till Brussels sprouts are cooked through. Season with salt/pepper and serve.
Did you make this recipe? I'd love to see pictures of your creations on Instagram!
Tag @lazyhomecookk and hashtag it #lazyhomecook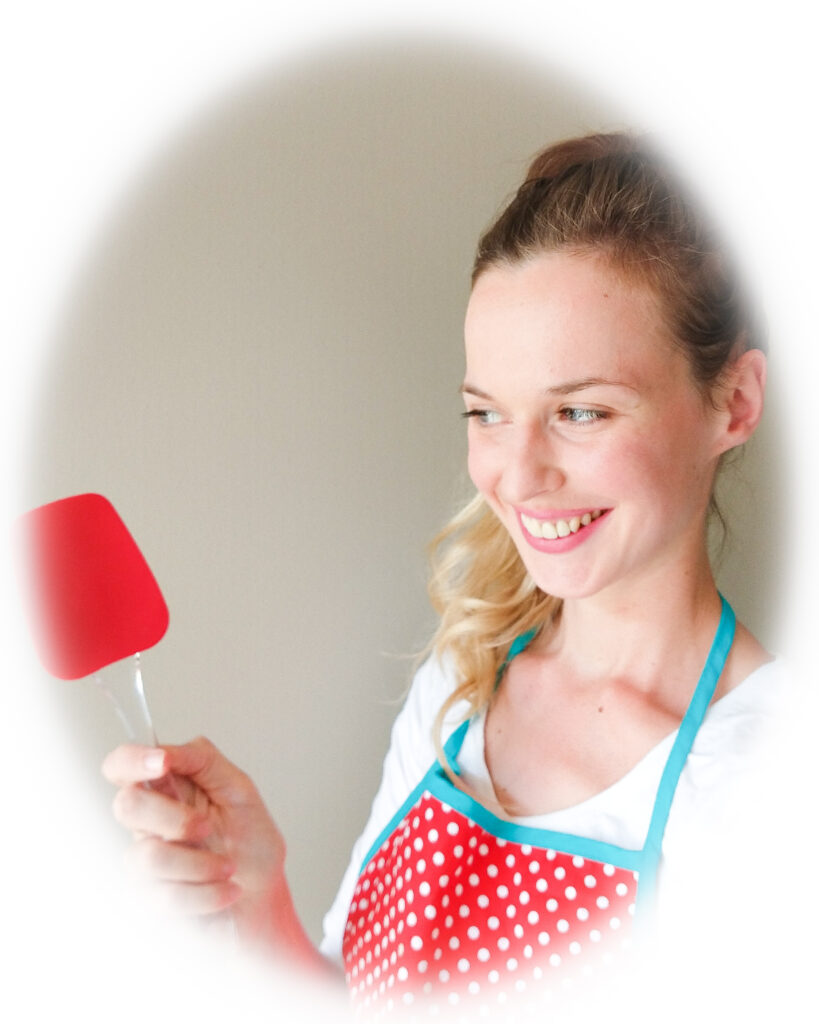 Hi, and welcome!
I'm Jeanette, the blogger behind Lazy Home Cook.
Here I share all my delicious, easy
and family approved recipes with YOU.
Thank you for stopping by!
I'm happy you're here.

---
---