The Best Russian Borscht Recipe (Beet Soup)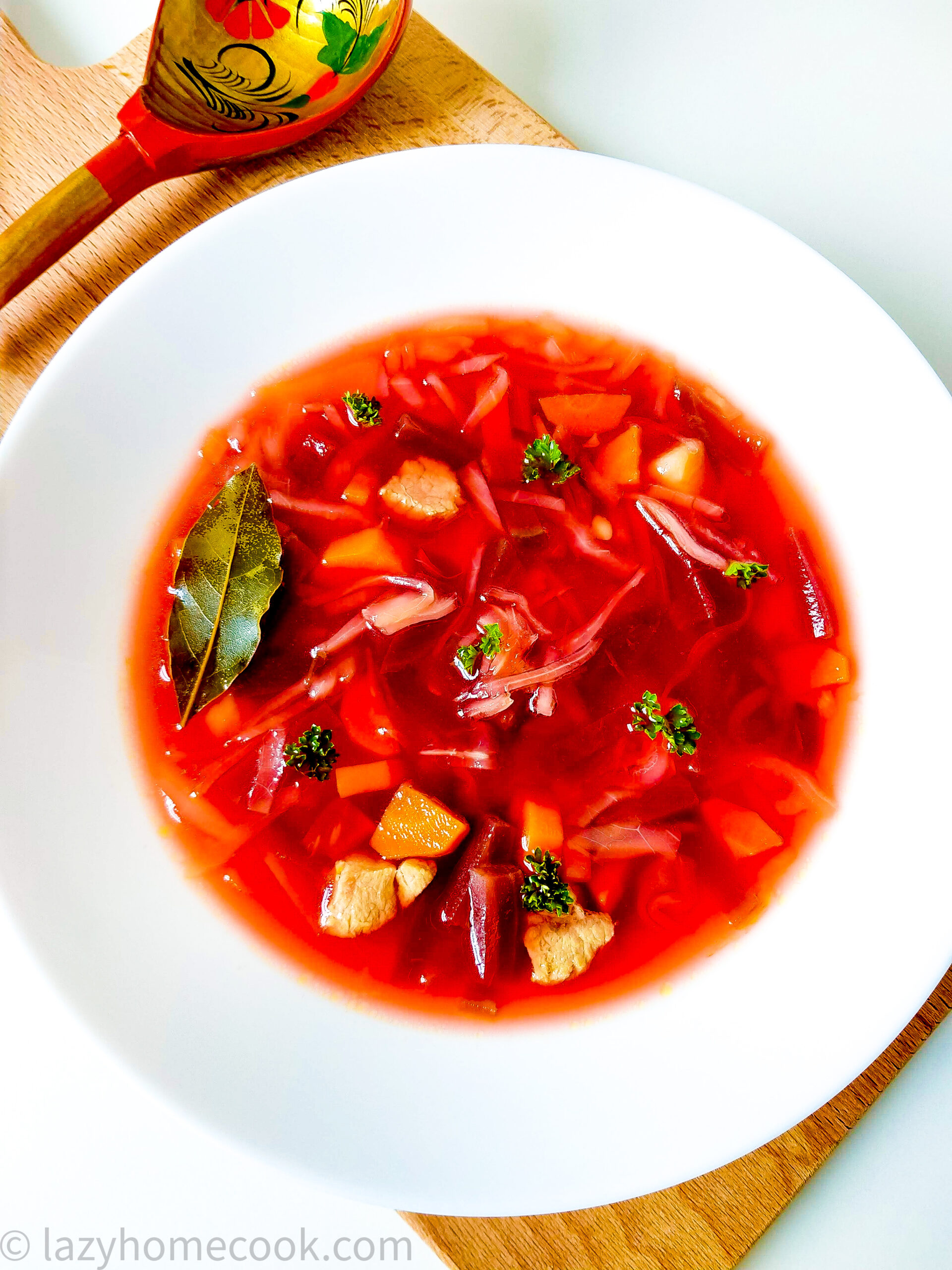 Today I share with you this iconic Russian beet soup recipe. My husband, who is Russian, absolutely loves my beet soup recipe and says it's one of the best borscht he ever had (now isn't that sweet)! The soup is flavorsome, healthy and nutritious; packed with beets (iron), carrots (carotene), potatoes (vit C, potassium, Vit B6) and cabbage (vit K, vit C, fiber, etc). It's simply one of the best Russian soup recipes and it feels amazing serving this dish to my family.

I still remember the first time I was about to eat borscht in Russia. I was a bit hesitant, because a beet soup didn't seem like something that I would really enjoy. I was scared that there would be a super deep beet flavor to it, but eventually that wasn't the case at all. The beets play a very subtle role in this dish and I discovered that it's actually a very tasty and healthy Russian vegetable soup!

In Russia they eat borscht together with dark bread and a scoop of sour cream. That's how we eat it too, and it's absolutely delicious! So don't forget to buy yourself some sour cream and fresh dark bread 🙂

You can enjoy the Russian beet soup right after you cooked it, but I like to let the soup rest for at least 30 minutes for the flavors to meld.

Ready to cook borscht? Then I would advise you to first cut all your vegetables. This will give you more time to correctly follow the recipe.

Anyway, the recipe may seem like a lot, as normally I share quicker recipes, but it's actually easier than you think and it's absolutely worth it in the end!

Loving this recipe? Check out my other soups too:
Spinach soup with crispy bacon &
Healthy lentil soup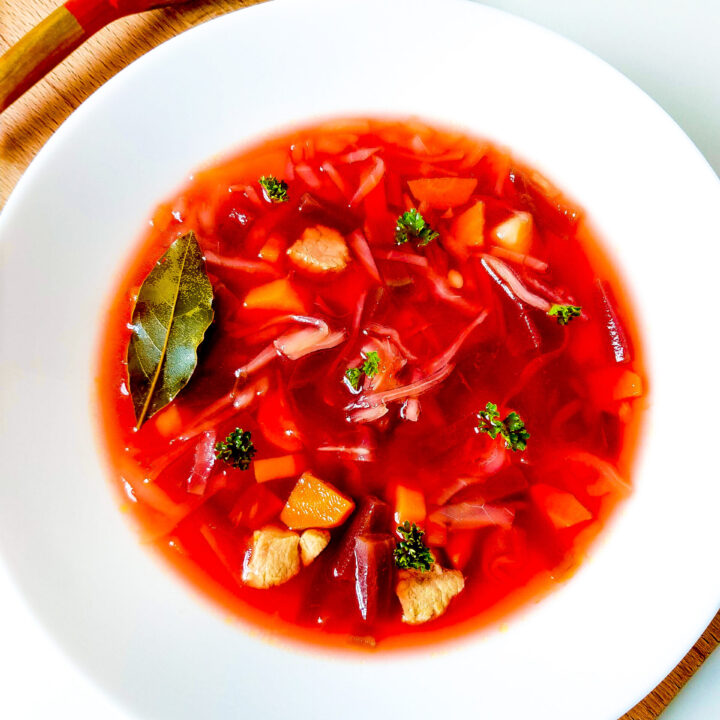 The Best Russian Borscht Recipe (Beet Soup)
Total Time:
1 hour
30 minutes
The best Russian Borscht recipe! An iconic Russian beet soup recipe that's flavorsome, healthy and nutritious. Yield: 4-5 servings.
Ingredients
500 gr precooked beets, keep the juice & cut the beets into short & 0,5 cm thick strips
1 big carrot, sliced into half moons
1 onion, finely diced
300 gr white cabbage, shredded
250 gr shoulder chops (pork), washed, bone removed & cut into 1,5 cm pieces
4 garlic cloves, minced
3 bay leaves
3 small potatoes, peeled & cut into 1 cm cubes
2 medium tomatoes, skin removed & cut into small cubes
2,5 L water
4 tbsp vinegar
3 tbsp sugar
0,5 tsp pepper
2 tbsp salt (+more to liking)
4 tbsp fresh parsley
4 tbsp fresh dill
Sour cream (optional)
Dark bread (optional)
Instructions
Start with cutting the vegetables and meat first. Keep them all in separate bowls.
Bring 2,5 L water to boil and add 3 bay leaves, half of the chopped garlic, the meat and 1 tsp salt.
Reduce heat, partially cover and let it all simmer for about 30 to 45 minutes.
In the meantime, heat butter in a skillet over medium-high heat. Add the onion, the remaining garlic and cook until the onion turns golden/brown.
Add the carrot to the onion/garlic and cook until al dente, around 5 minutes. Add more butter if it seems too dry.
Add the beets, the beet juice, 125 ml of water and tomatoes to the skillet. Cover the skillet and let it simmer for about 5 minutes, set aside.
Once the meat has been cooking for at least 30 minutes, add the cut potatoes to the meat. Bring to a boil and cook till potatoes are al dente, about 3-5 minutes.
Add the shredded white cabbage and boil until softened.
Turn to the skillet and add the beet mixture to the meat bouillon. Let it boil for about 3 minutes or until everything is properly cooked through.
Turn heat off and season the soup with the vinegar, sugar, pepper, fresh parsley, fresh dill and salt. Taste and season more if needed.
Serve with dark bread and sour cream.
Did you make this recipe? I'd love to see pictures of your creations on Instagram!
Tag @lazyhomecookk and hashtag it #lazyhomecook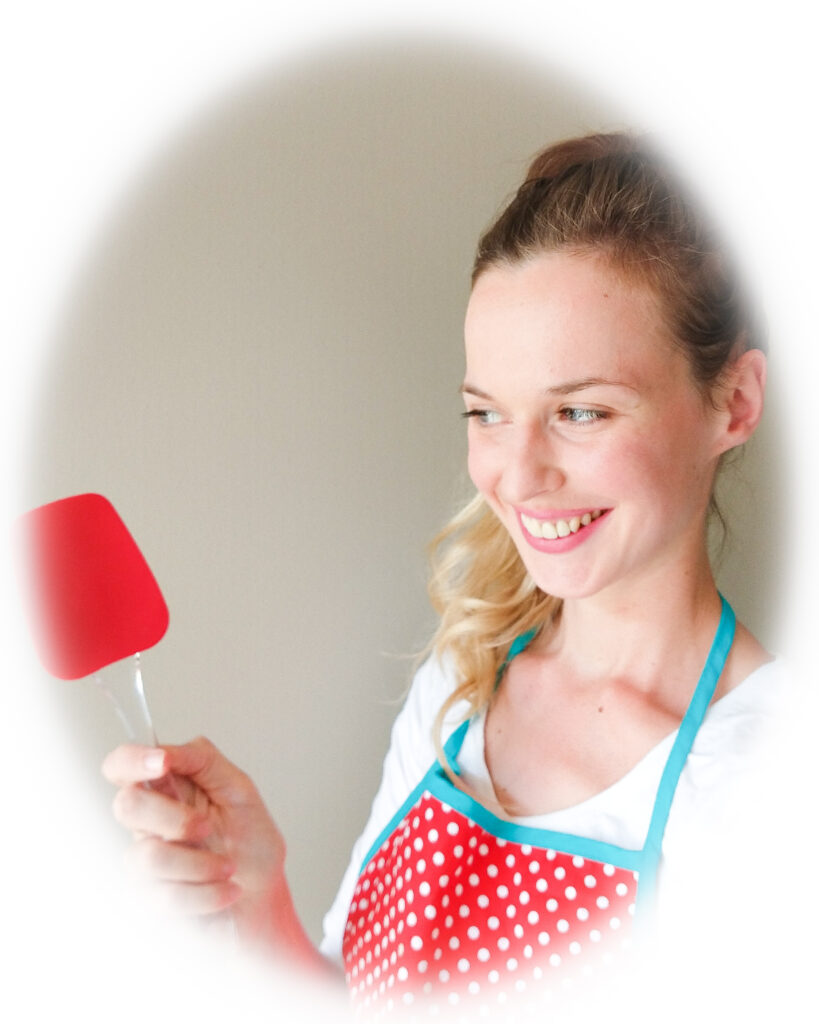 Hi, and welcome!
I'm Jeanette, the blogger behind Lazy Home Cook.
Here I share all my delicious, easy
and family approved recipes with YOU.
Thank you for stopping by!
I'm happy you're here.

---
---