Quick Japanese tofu and chicken meatballs in teriyaki sauce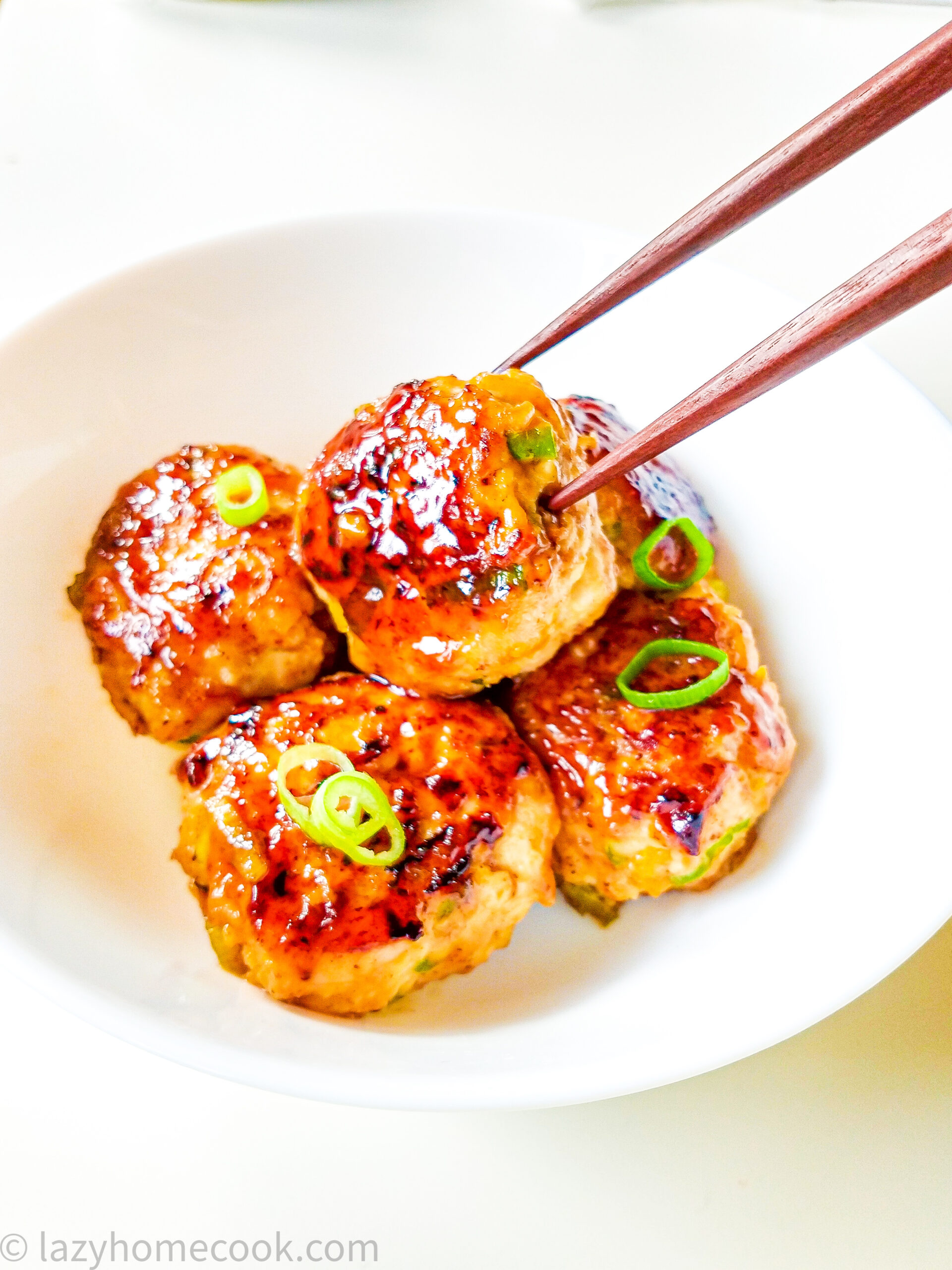 Tender, juicy and flavorsome chicken tofu meatballs covered in tasty teriyaki sauce. These Japanese meatballs will definitely become one of your family favorites, even your kids will love them!

The secret to these deliciously soft meatballs is tofu. Tofu is made of condensed soy milk and is a great source of protein. It's also packed with calcium, selenium, manganese, iron, and magnesium. I love to cook with tofu, because it absorbs so much flavor and once it's fried it turns so crunchy from the outside, just like my crispy tofu recipe with a sweet soy glaze.

The meatballs are cooked in a skillet (I prefer to use this high quality Tefal skillet for that) and take about 30 minutes to prepare. So a great dish to cook if you don't have much time to spend in the kitchen, but still want to serve an exotic homemade food. Enjoy!

If you're into Asian flavors you'll love these recipes too:
Chinese beef with spring onions
Extra crispy cauliflower bites with sweet soy sauce
*This post may contain affiliate links.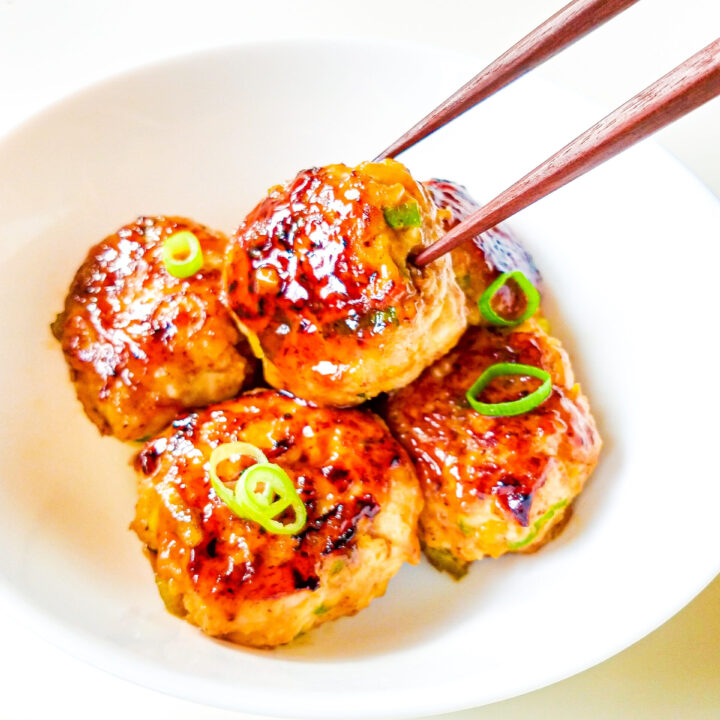 Quick Japanese tofu and chicken meatballs in teriyaki sauce
Tender, juicy and flavorsome chicken tofu meatballs covered in tasty teriyaki sauce. These Japanese meatballs will become one of your family favorites, and even your kids will love them! Yield: 15 meatballs
Ingredients
300 gr ground chicken
70 gr tofu medium/firm
1 bell pepper, finely chopped
1 spring onion, sliced into little rings + extra to garnish
1 tsp ginger, grated
1 egg, beaten
1 garlic clove, minced
Salt/pepper
Teriyaki sauce:
2 tbsp soy sauce
2 tbsp sugar
2 tbsp mirin
4 tsp rice vinegar
1 tsp cornstarch
Instructions
Heat a skillet with oil and cook capsicum and garlic until soft and set aside.*
Mix all the teriyaki ingredients until combined and set aside.
Now, drain tofu and gently squeeze out liquids. You can use a kitchen paper to remove remaining liquids.
Then crumble tofu into a large bowl and add ground chicken, capsicum, garlic, green onion, ginger, egg and mix until combined. Season with salt and pepper.
Using one full tablespoon, make small meatballs.
Heat oil in a skillet over medium heat and drop the meatballs. Cook until the bottom is golden/brown, then flip, lower heat, and cover the skillet with a lid until the inside is cooked through, about 3 minutes.
Now, remove the lid, pour in the teriyaki sauce and let it thicken. This process will go very quick and is a matter of seconds.
When thickened, turn off the heat and flip the meatballs to cover with the sauce.
Serve with spring onions on top and a bowl of rice.
Did you make this recipe? I'd love to see pictures of your creations on Instagram!
Tag @lazyhomecookk and hashtag it #lazyhomecook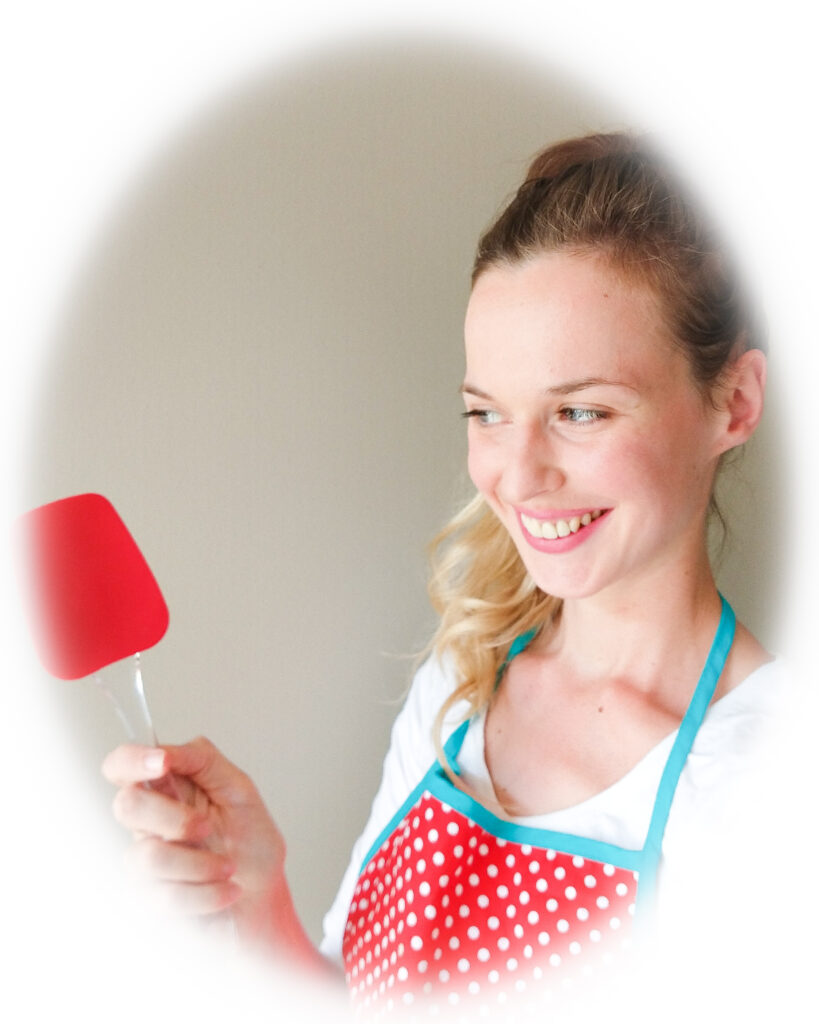 Hi, and welcome!
I'm Jeanette, the blogger behind Lazy Home Cook.
Here I share all my delicious, easy
and family approved recipes with YOU.
Thank you for stopping by!
I'm happy you're here.

---
---