Juicy burger with crispy bacon and homemade sauce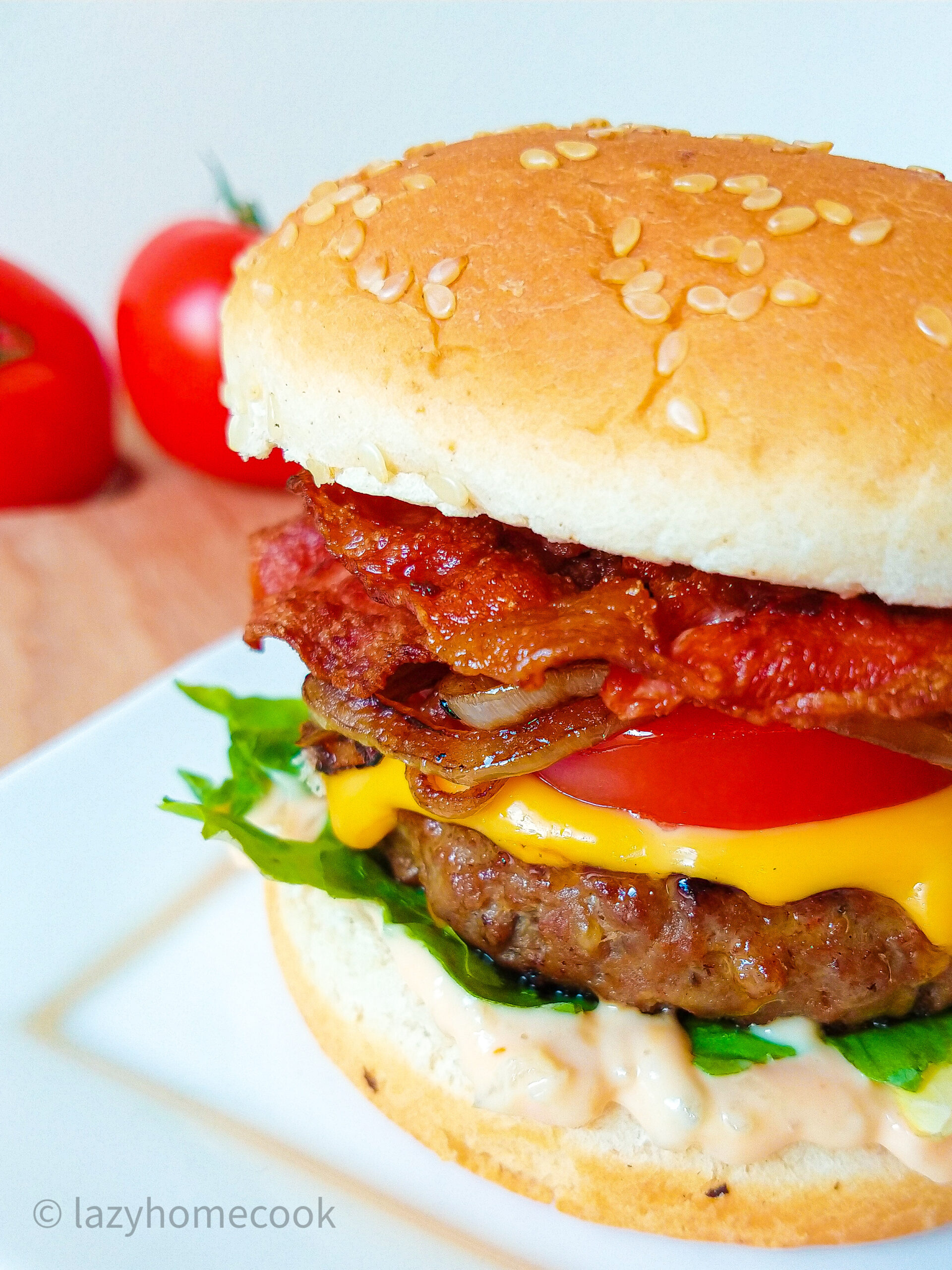 Caramelized onions, crispy bacon and beef covered in melted cheddar cheese. I just love to add bacon to my dishes whenever I can. I believe that bacon always makes everything taste better, especially a burger!

This hamburger works great on it's own, but you can make it a complete meal by serving it with my spicy sweet potato fries. These two work magic together.

Btw, I didn't add any pickles to this burger recipe, because the homemade burger sauce already gives that extra acid that lifts the burger to the next level.

Try it out and let me know your thoughts below in the comments!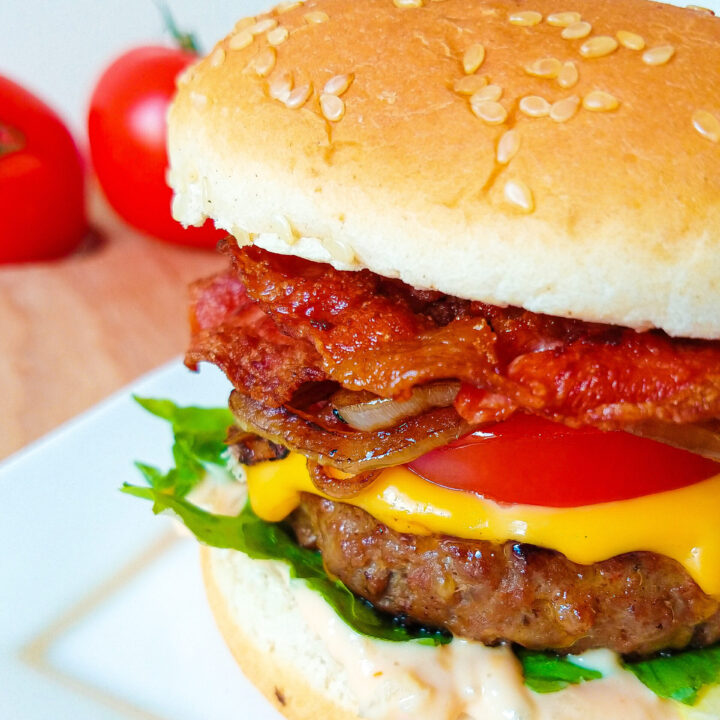 Juicy burger with crispy bacon and homemade sauce
Hamburger with caramelized onions, beef covered in melted cheddar cheese and crispy bacon.
Yield: 2 hamburgers
Ingredients
2 slices bacon
2 burger buns
2 burger patties
2 slices cheddar
0,5 onion
4 tbsp Heinz natural sandwich spread
2 tbsp mayonnaise
1 tbsp ketchup
1 tsp vinegar
Salt/pepper
Vegetables of choice. I used tomato and lettuce
Instructions
Add to a small bowl Heinz natural sandwich spread, mayonnaise, ketchup and vinegar. Mix and set aside.
Slice the onion in thin rings and set aside.
Add oil to a skillet and fry the bacon on medium heat until crispy and red/brown.
Remove the bacon and fry in the same skillet the onion until caramelized and brown. Add more oil if needed.
Remove the onion and fry in the same skillet the burger patties until cooked through (see point 6). Season with salt and pepper.
Put a slice of cheddar on each burger patty the last minute of cooking. This will make the cheddar cheese melt.
Cut the burger buns through half and put half of the sauce on each bun. Add some veggies ( I used lettuce) on top of the sauce and put the burger patty with cheddar on top of it. Then, add a slice of tomato (optional), the caramelized onions and the crispy bacon and close the burger (like on photo).
Enjoy!
Did you make this recipe? I'd love to see pictures of your creations on Instagram!
Tag @lazyhomecookk and hashtag it #lazyhomecook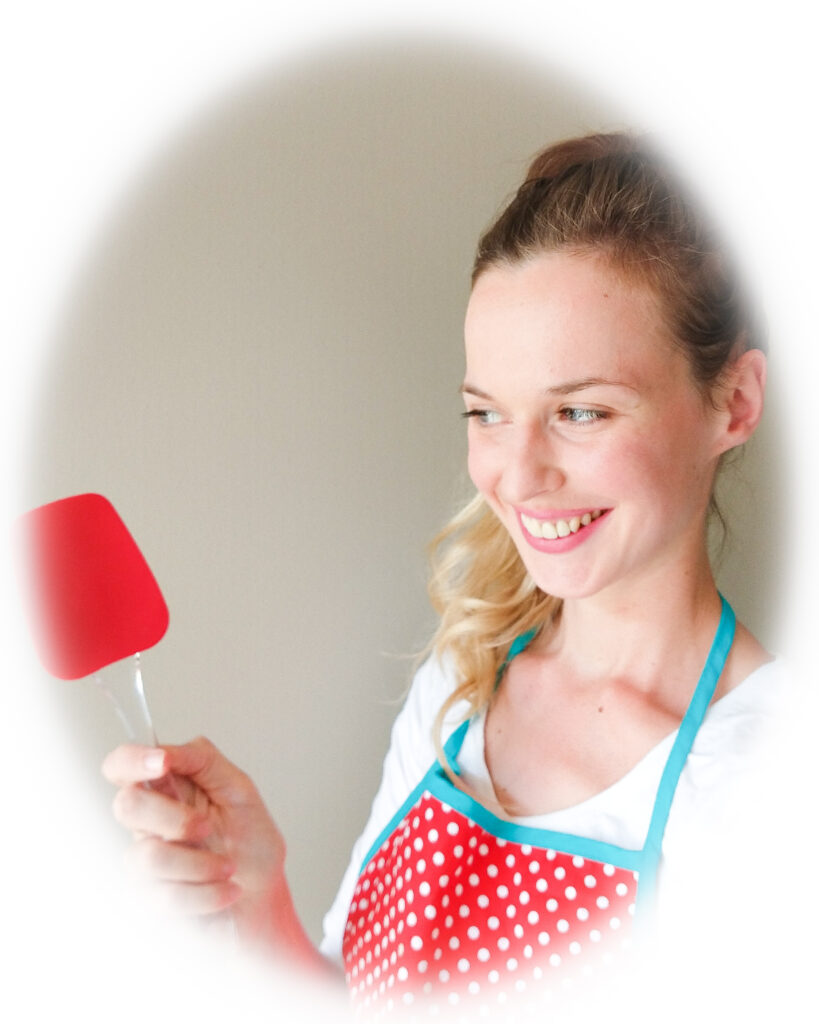 Hi, and welcome!
I'm Jeanette, the blogger behind Lazy Home Cook.
Here I share all my delicious, easy
and family approved recipes with YOU.
Thank you for stopping by!
I'm happy you're here.

---
---